Robert Mondavi said it best, "Wine is art. It's culture. It's the essence of civilization and the art of living." Winemakers are artists for sure and I truly appreciate when a winemaker appreciates and displays other artists work.
The following list are a few wineries/vineyards that show appreciation to artists by displaying their art for visitors to enjoy:
Displays the art by Harold and Peggy Francis.
"Harold's art drawing inspiration from the plant, animal and mineral kingdoms and his vivid imagination, Harold uses an intricate technique of layering color, shape and texture. As he paints new patterns and images emerge drawing the viewer deeper and deeper into his creations.
"Animals Among Us" series by artist, Peggy Francis, honors animals that are integral to our Napa Valley lifestyle. Farm life is deeply rooted in Peggy's southern childhood, images are recalled from her Mammaw's chickens, pigs, and milk cow and the cattle and horses on her family farm. These contemporary paintings of the farm animals among us speak to our collective longing for the gentler pace of agrarian life we experience in the Napa Valley."
Artist website: http://www.2718indistudio.com/
Vineyard Website: http://www.markhamvineyards.com/visit-us/art-gallery
Mumm has photography on display from Ansel Adams and Wayne Levin. Adams' twenty-seven gelatin silver prints includes many of his most famous photographs. Levin's photographs made beneath the surface of the waves have captivated viewers for decades.
Website: https://www.mummnapa.com/visitmummnapa/fine-arts-gallery
"Donald Hess began collecting art in 1966. Today, The Hess Collection houses less than a quarter of a collection that is shown in museums worldwide. His collecting style is a personal endeavor driven by passion rather than monetary investment or current trends. He develops a close dialogue with an artist to better understand what drives him or her to create and he carefully limits his focus as a collector to 20 living artists whose work he faithfully supports long term. As is evident by the caliber of the collection, he collects with the uncanny ability to acquire works by lesser known artists who often go on to become well known and respected in their disciplines. His typical commitment to an artist spans decades and various stages of his career."
Here are a few artists in his collection to check out:
Franz Gertsch
Robert Motherwell
Anselm Kiefer
Magdalena Abakanowicz
Leopoldo Maler
Francis Bacon
Gerhard Richter
Website: http://www.hesscollection.com/art/
Upon approaching Jamieson Ranch you can very clearly see from the road the loud colorful graffiti-esk mural. I loved how they had a rustic feel and then added this urban pop. Contributing artists include popular SF Bay Area urban muralists Ricky Watts, Meagan Spendlove, "Griffin One" and Chris Jehly; self-taught Los Angeles artists "Duce" and "Haste" and ubiquitous graffiti specialist "Quake," who is bringing his style from New York City.
Website: http://www.jamiesonranchvineyards.com/music-and-art
"Avid lifelong art collectors, Craig and Kathryn Hall are delighted to invite guests to enjoy expressive art and world-class wines. HALL St. Helena and HALL Rutherford feature select works that are sure to inspire the senses. Featuring some of the most internationally acclaimed artists today, such as John Baldessari, Jim Campbell, Nick Cave, Jaume Plensa, guests will be guided through the collection, while tasting some of HALL's amazing wines."
Website: http://www.hallwines.com/visit/winery-experiences/hall-architecture-art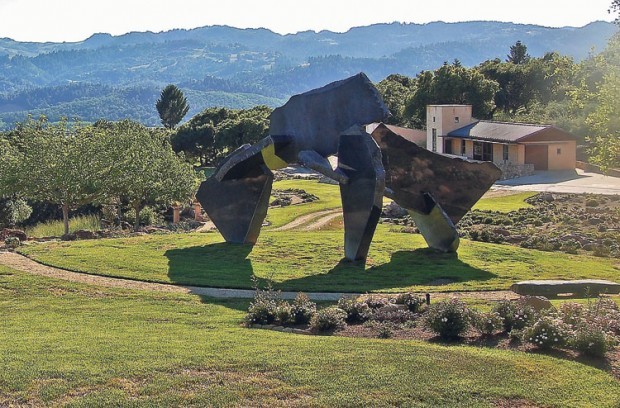 "Beginning in the mid-1980s, Ron Wornick, an accomplished woodworker in his own right, along with his wife Anita, began actively collecting master artisan pieces made from wood, ceramics, glass, fiber, and metal. Within 20 years, the Wornicks had created one of the premier contemporary craft collections in the world. The collection has been on view at the Museum of Fine Art in Boston, American Craft Museum in New York, the Oakland Museum of California, and the McAllen Museum in South Texas."
Website: https://www.sevenstoneswinery.com/pages/art.html
Please let me know if you have any other great wineries you know of that have awesome art displays!! (Pictures are not by me)
@happensforariesling or happensforariesling@gmail.com